A real sneak peak to the features of Google+
Thanks to my mentor Mari Smith, I have been invited to participate in the Google+ Project beta. I got access over the weekend, and for the most part, I have to say I think Google has created an excellent sharing and collaborating platform… something functional, sensible and very useful to anyone, whether for personal use or business.
So, just what is Google+? First it is a project not a product and was termed that way in the effort to make Google more social. The design of Google+ is to create a platform that more closely mirrors how people interact and share information.
A first look at what Google has created in my humble opinion of course, is brilliant! A break down on the lingo is always first at hand.
Google+ is pronounced Google Plus. While Google+ is still in beta testing, they are continuing to roll out the platform to additional users. The first thing you will need to have access to Google+ is a Google account. Once signed into your Google account, here is what you will see: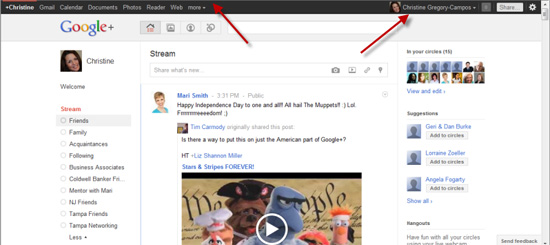 Notice the grayish black tool bar. Again, only if you are signed in to Google the toolbar will be displayed. On the far left side of that tool bar, you will either see +Web or +YourName as you see above where it says +Christine. Once Google has opened the invitation to you, you will see your name.
What can we do inside Google+… I think it's pretty cool, but then again, I am a geek at heart, even if I am a social geek. Some of the first features to look at are "Circles", "Hangouts", "Huddles" and more.
The first thing you will want to do with Google+ is set up your profile.
I had my Google profile set up prior to using Google+ so I can't be sure what first screen you will see.
Navigating the waters…
The top navigation bar provides access to the different features of Google+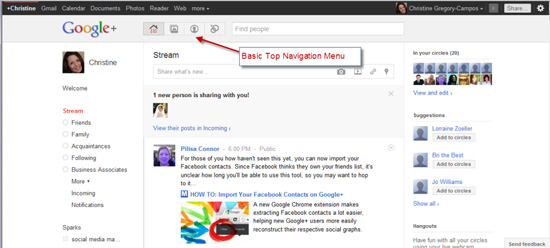 Getting to your Profile…
Click on the Profile button from the top navigation and then click the "Edit Profile" blue button on the right.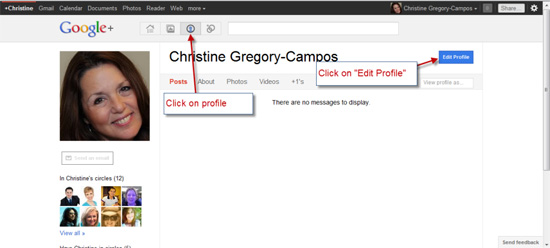 Make sure to fill out as much information as possible, having a professional, informative profile for others to read is key in social media. When finished, click on 'Done Editing' at the top of screen.
Google+ has some really cool features…
Let's dive right in, and checkout the "Circles" feature.
Circles are where you add your contacts, i.e. friends, family, co-workers, alumni etc to a specific circle. From the top navigation bar, click on the last icon to access the Circles feature. Take a look below: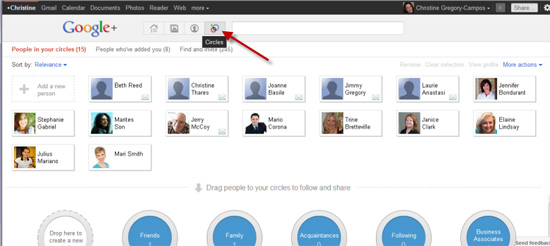 Let's move on to the "Hangouts" Feature…
Okay SKYPE watch out, because I personally think this is a very cool feature for anyone to use. So what is the Hangouts feature?
It is a way to "hangout" with friends online in the same video chat room. If you are familiar with online chat rooms, the concept is the same, but Google+ now adds video.
So if you are out surfing the internet, you can invite your friends to join you in an online hangout room. I'm still learning all the details about the Hangouts feature, but from what I know, you can text chat, as well as even watch a YouTube video together!
I had no good screen shots for Hangouts yet, as many of my friends are not on Google+. I will be adding more screen shots and how to's as my Google+ network grows.
What I commend Google on this feature is the simplicity of use. On first appearances, it looks very simple and intuitive to use—something I know my non-geeky friends and family will really appreciate.
The "Huddle" Feature….
Google+ Mobile App has some really great features. The "Huddle" feature is part of the Google+ Mobile App. It doesn't get any better than this… I mean Google really did think about this project from a broad perspective, and if you use text messages to communicate with your friends and family, as well as it use it to coordinate events and outings, you are so going to love this…again SIMPLE to use feature. Pictures do paint 1000 words…check it out: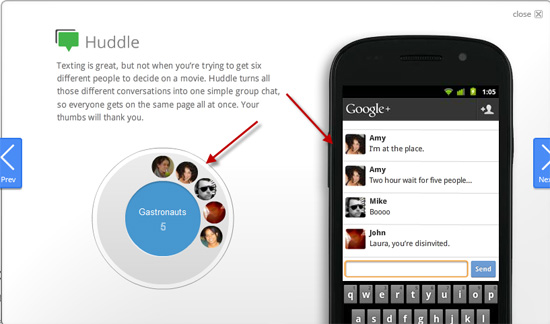 So clearly, if you are trying to make plans with your friends and all of you have Google accounts and have a public profiles setup, once Google+ is rolled out, you can start a "Huddle", which is literally a group text chat with friends through your mobile device.
The "Huddle" feature does not show on the desktop, rather, there is a link on the right sidebar menu "Get Google+ for your mobile device".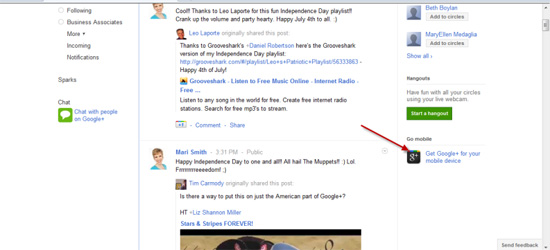 Some important notes about the Google+ Mobile App features are:
Full Application is available for the Android (2.1) and a Native app for iPhone (iOS 4+) is coming soon.
A scaled down version of the Google+ Mobile App called "Web App" is available for Android (1.5+) or Apple (iOS 3+) phones.
A limited version of the Google+ Mobile App is called the "Basic Web App" is available to Blackberry 6.0, Nokia/Symbian and Windows Mobile.
The feature chart below shows what features are available in each version of the application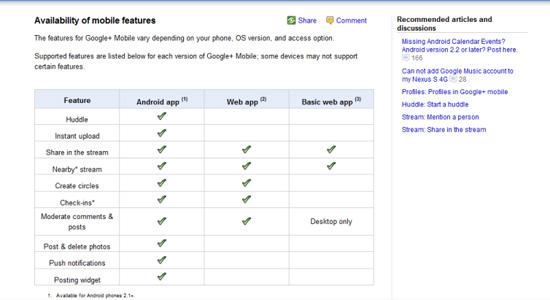 I have a BlackBerry Storm2 – so I cannot speak first hand on the Android app. The Android app seems to have all the features of the Google+ app (what a surprise). Some other features of the app include "Nearby stream" which means you can see all the activity of people who have shared their activities that are nearby your current location. You can Check in to places, make posts and instantly upload photos from your mobile device to a private photo album on Google+.
What is "Sparks"
"Sparks" is the next feature I think is really great on Google+. This feature allows you to search and save topics of interest, and save them by category (topic). Sparks provides the latest web content on the topic searched. Take a look at the screen shot: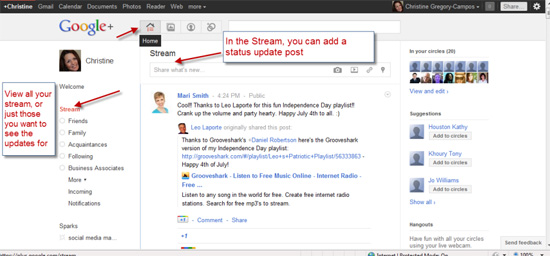 In this example, I clicked on Sparks on the left sidebar menu, then typed in my topic and then hit the search button. After reviewing the search results, I can choose to click on the Add Interest button to save this interest topic to my Sparks menu.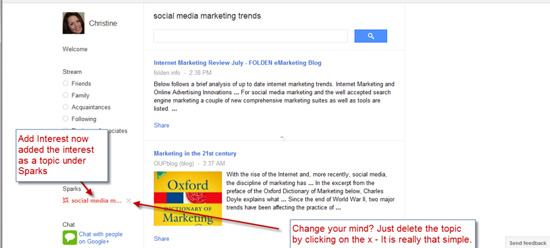 Now I can easily navigate to those topics of interest. If I change my mind, I just hover by the topic until the x appears and click the x to delete.
I can also decide to share my findings.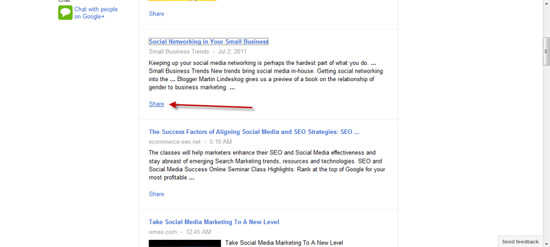 The Share button appears below each item returned in my Sparks search. Once I click on Share, I have the opportunity to make a comment about the content and then can even select what Circles I want to share this content. Awesome!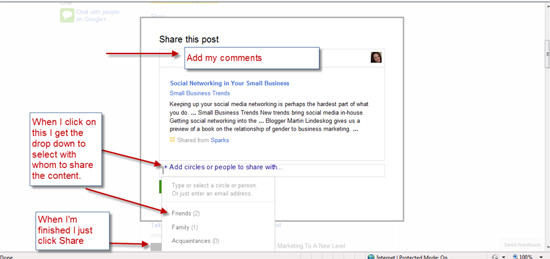 These are just some of the high level features of Google+. I really think Google has done an outstanding job and I can't wait for more of my friends and colleagues to have access to this great project. I will certainly keep you posted as I learn more!!!
Thanks for stopping by my blog, I hope this information was helpful. My business is all about serving you! –Many Blessings