Mobile Websites | Mobile Marketing
Grow Your Business with Mobile Marketing
You will discover some key pieces to building a mobile marketing strategy while watching the video..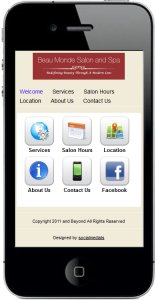 The rapid increase in the purchase of smart phones and tablets is changing the landscape of online marketing.  This increase in sales combined with the ease of advertising through text message marketing has created a must in marketing any business.
The first and most important element of mobile marketing is to have a "mobile friendly" website.  So, what is a mobile friendly website?  Picture this… Do you read many of your emails from your cell phone?  How often do emails refer you to websites?  When you land on those sites, can you easily navigate the pages?  Can you see the content without "pinch to zoom"?  These are some of the "key technical features" Google is using in their algorithm for search results.  Speaking of search results, currently 50% of all local searches are being done from smart phones and tablets.  Google is interested in maximizing the "end user experience".  Just shrinking your existing website to a mobile site does not meet all of Google's mobile website criteria.  Google has a checklist of features to consider when designing your mobile site.  
The average text message is opened within 5 minutes of receiving it.  There are different technologies available to take advantage of text message marketing…but text messages are only the tip of the iceberg.  Successful mobile marketing can also help build an audience through the use of a blend of online technologies and offline strategies.